We have an expression in my parents' motherland, Greece, that says "eise o kai legese". It means something like "you are and your name is", to describe what you do. Well, who is Nick Bontis?
First of all, I am a father of three kids. Two boys and a girl, Charilaos, Konstantinos and Tia Maria. My boys are obviously, and I 'll explain that later, playing soccer.
My daughter hates it! She thinks there is too much of it in the house. My office is full of football scarves, soccer is on TV 24/7, we drive her brothers to practice and we always are watching it. On an average day I will watch three or four games.
I am also a husband. I met my wife at the university when I played soccer. In USA and Canada, where I live, college sports are more prominent pathway than it is in Europe.
I was dating one of my wife's friend and she was the one that invited her to watch a game I played. It was the biggest mistake my ex-girlfriend made!
I met Stacy, my wife, in the parking lot before even going to the locker room to shower. It was October 1st, 1996. Twenty-five years ago.
The next day Stacy told me that my soccer sweat and the stink has stuck with her for the last 24 hours! That was the first thing my future wife has said to me.
I am a university professor. Chair of the department at the University of McMaster. I am here since 1988. It's been 33 years and I still love it. It's my joy.
I love teaching, being in front of young people and expressing new business content, especially now with the new technology. I have a passion for my academic career and I love soccer. I played college soccer in Western University, where now my son started playing for and it's amazing. I still play with old timers.
Soccer gave us experiences and memories. We traveled to many places. In the soccer offseason I was in the school's track and field team. I was a long jumper.
In the soccer field I was a striker, so the speed and the long jump helped me a lot. After finishing university, I played in adult men's league. At the time it was a semi-pro league, the CNSL (Canadian National Soccer League), for a team called London City. The MLS did not come until 2007, with Toronto FC and Montreal included in. The professionalization happened much later in Canada, after my career.
I moved from playing to coaching, I got my license B and then I moved on to administration. I started with my local club in terms of volunteering as a director, helping in fund raising. I went to Canada Soccer for ten years. I was vice president for three years and last November I was elected as president.
It's been thrilling. I was in Moscow on June 30th, 2018, which is a very important date. It was the day that the Canada-US-Mexico bid get to host the 2026 FIFA World Cup.
We won and now we have five years to make it a success.
I am a very proud Greek Canadian. I went to Greek school. My wife is Greek Canadian and our kids went to Greek school. I speak to my children in Greek all the time.
My father is from Chriso, a village near Serres and my mother comes from Kiato, in Korinthos. My wife's parents are from Karditsa.
I 've been to Greece every summer for 20 years. We travel. We love going to Chalkidiki.
In every FIFA meeting, the first people I seek is the representatives from Greece and Cyprus and the other Greeks from the federations of Australia and South Africa.
My grandfather, Nikos Bontis, the first Nikos of the family, used to tell me back in his village, in Chrisos Serron, "onoma kai pragma".  Like many Greeks in the war, they were obviously trying to protect themselves. The Italians had come over and he thought he can fake he is Italian.
He was a little bit educated, he knew how to speak Italian and he changed his name to protect the family. Our family name used to be Papapostolou, a very Greek name. He came up with the idea to change it to Bontis, to be more Italian. Let's be honest, Bontis is more Greek than Italian, right? And this is the story of "onoma kai pragma", as a reminder.
My grandfather managed to protect the family because when the Italians came over, he was telling them that he is Italian and they believed him, as he was speaking their language!
He was telling me that I got the name he "invented" to take care of his family.
My love for soccer and track and field comes from the passion that Greeks have for sports, starting from the Olympics.
We used to visit Ancient Olympia and I heard a lot about Marathona and the Panathinaiko Stadium. I thought all the stories are real!
My father being from the North, his first team was Panserraikos and when he moved to Thessaloniki he became a PAOK fan. He told me that when I am old enough he would take me to Toumba for a crazy rivalry game.
My first game, in early 80's was PAOK vs. Olympiacos and it was insane! The atmosphere with the food and souvlaki tracks, the songs. Toumba is something else, like a dungeon and I say it with love and not to offend anybody. The security guys said to my dad "where do you take the boy? No kids in this game". He convinced them saying "we are from Canada" and I went in. I saw all these fences and I heard all the songs from naked fans in Gate 4 and the bags with coins and fishes!!!
A little boy from Canada opens his eyes and thinks "what's is this thing?", this "theater" with fireworks. For 90 minutes you can't sit in the "dungeon"!
That was my DNA, my Greek culture and I carried the Olympic torch a few years ago. I also loved basketball. I watched Nikos Galis and all the legends that came after.
I am very close to many sports figures in Greece.
There are cultural differences between Greece and Canada. Fifty per cent of the players in Canada is female.
We got our national women's team that just won the Olympic gold medal in Tokyo and ranks in the world's Top-10! And I want to shout out to one lady, Katerina Falida.
I met her many years ago. She was a coach with Olympiacos' academy and now she is in the national women's program in Greece. It's important for the big and rich clubs in Greece, Olympiacos, Panathinaikos, AEK Athens, PAOK and Aris, to also invest in female soccer.
The rest of the world has already moved on. It has to be our new identity to treat the value of sports to little girls.
As a college player, I was training with the soccer team every day. It's a big commitment.
When the season ended, I was moving to long jump, training by myself and literally jumping into dirt! My coach recruited me to long jump and he was saying that I shouldn't be able to jump the way I did because I am not a tall person.
I am 5'9'' and 160 pounds. I kept myself motivated hearing my coach saying that "Nick jumps when he stands on the track, 38 meters from the board". Meaning that my jump was in my head.
Years later my wife watched me in alumni games jumping for the first time and she said that now she understands what my coach was talking about.
The 90% of the sport action is probably in our head and a mental matter. Mental health is so important, especially after the pandemic.
It's the same thing I use to say for sports and academics. It's a mythology that you have to pick one. In Canada and the US it's usual to combine. It's part of the culture. In Greece, the problem is that the system forces the kids to choose. They train in an academy and they "have to" leave school.
They are forcing teenagers to become professionals in a very early age. Here in Canada you have the opportunity to play a sport and be able to finish school.
Many of the 15-year-old kids are not mentally prepared to play and they should have the chance to go to college. The teams can still have their rights.
In today's world there are no boarders and the opportunities are more and more.
But there are parents that think their kids are much better in sports than they are really are. That's the first problem. That's what a father supposed to do. But there are also professionals to judge.
As a parent you can't put all the eggs in one basket. In today's world, the probability of a young person to make it to the first pro team is very very small. Even kids that are groomed to be professional, have small probability.
The second thing is the media. The vision they create is Lionel Messi and PSG or Cristiano Ronaldo in Manchester United. The fast cars, the beautiful girls. Media and kids do not think about the 99,99% of the players that play in Germany's third or fourth division.
The world of professional football is not the "Old Trafford" or the "Parc de Prince". That's an important lesson for all of us and we should be careful what we wish for.
It's nothing bad to play in third and fourth division, if you love soccer. That's also a lesson for the parents. We should open all the opportunities, because education is the most important thing.
It's very sad to see a 20-year-old boy to that he cannot play in pro leagues and he already left school, losing many of its other chances to succeed in life and not creating an alternative path.
I do a lot of speaking, professionally. As a professor, it's good practice because I teach every day. I have a "laboratory audience".
The other thing that helps me as a keynote speaker is that in class I give my 150%! Nothing less. I love my students and they love me.
All my classes are three hours long. During the pandemic I received permission for classes in campus, with a strict protocol. Because you cannot have the same impact in a Zoom call, sitting in a chair and in front of a computer and 50 students.
My classes are "marathons"! It's me, it's them, all of us debating and this energy is what I love and still gives me passion ad makes me young. I want the people that either give money or their time to be there to get "returning on investment". You gave me an hour of your time and attention and I need to give back the added value.
I travel all over the world for speaking and I love this important part of my life.
It's a chance to travel in places I wouldn't imagine I can be and I always try to find Greek people in Tokyo, Taiwan, Africa, Jamaica, Melbourne and Johannesburg.
In ninety per cent you were born with a charisma to be motivational speaker. The rest 10% is the one you can train and develop, to become better.
But for me, you have to be a certain personality and have the ability to say something in the first 20 seconds, so the audience will not think the chance to leave.
I have skills to do that, but I study other speakers. I am professor for 30 years and every now and then I would go to a lecture in a different department, because I hear from the students that another guy is awesome.
It's my research as I do with stand-up comedians! They have skills when it comes to how they use the space, timing, how they set up a joke and there are many ways to become better.
They say that in our days we don't have time to do a lot of things. Please, let me tell you something. Tomorrow there are 24 hours available. Guaranteed! You decide what you 'll do in the next 24 hours. It's not about having enough time. Many prefer to complain about it, but it's not my philosophy. We all have 24 hours. You decide what do you want to do and what's the thing you do first.
It's not only about being multitasking or efficient. It's about being smart about what are the most important things to do.
My huge priority as a president of Canada Soccer is obviously the 2026 FIFA World Cup. It's an expanding tournament with 48 teams for the first time and will be hosted by us and USA and Mexico.
FIFA is coming to do visits and is very important to be ready for it. It may seem that five years' time is a long way, but it's not.
Our second priority is women's soccer. We won the Olympics in Tokyo, but if you look the Top-10 teams in the world in women's football, nine of them have their domestic leagues. We do not…
Most of our players either play in the NWSL in the States or in Europe for PSG, Lyonnais in France, Manchester City in England or Wolfsburg in Germany.
We have to develop our professional league, to support the opportunities for the young ladies who want to develop further.
Priority number three is financial stability. We do not have the very rich clubs. We do not have the big clubs like Europe that can finance all the development of the academies.
Our clubs are young. You look at the Toronto FC, that started in 2007.  Baby clubs compared to teams in Greece. We want them to grow.
It's a challenge like the one we faced during the pandemic…
In 2020 we had to cancel the CPL (Canadian Premier League). All we could do was a one-month tournament where all the teams played in a "bubble".
That was a massive financial impact, because the clubs did not generate revenue. Now slowly, still in the pandemic, we started to play, with certain fans in the stands.
An administrator, a president, is not a guy who just decides. He must be perhaps a former player or coach, a fan, a general secretary and now a Covid expert. I have the benefit of meeting and getting to know my colleagues. As you can imagine there are not many women but we are also working on that.
When you are president, you need to deal with players, coaches, sponsors, broadcasters and being a player allow me to know their side. I got to build the strategy of the federation and the most important element in the role of the president is to be able to listen.
People call me every day for their problems. I do not have the answers to the 90% of the problems. I have to listen, I have to think and I have to figure out who's the right person to solve this issue.
The last thing is to have energy and the energy is in my blood!
Since my first role in Canada Soccer, back in 2012, we 've done some amazing things.
Of course the unexpected pandemic was and still is a big challenge, but we are on a track we wanted. We launched our domestic league three years ago. We just started.
Don't forget that out top teams, Toronto FC, Vancouver and Montreal play in the MLS. We needed our own league and we will do the same thing for women too.
The second achievement was hosting the Women's World Cup in 2015. And now I consider myself very lucky because soccer is growing in our country and we have the 2026 World Cup ahead.
Canada is different than Greece. We got basketball with the 2019 NBA champions, the Toronto Raptors and here everybody knows Giannis Antetokounmpo.
We also got ice hockey, which is not popular in Greece, but here is one of the most dominant sports with media and fans' attention.
Another serious matter is, besides women's soccer, the role of women executives. We have to create an equal system for them. They must have the chance, after finishing their soccer careers, to be in coaching or administration.
I always say that women should coach women. That's what I mean by "equal system". When I was elected-president, the first thing I did was recommend the appointment of Charmaine Crooks, the first female vice president in Canada Soccer history.
That's the only way to solve a problem. It's not going to be solved by accident. Charmaine Crooks is an amazing person, a former Olympian as a runner (silver medalist for 4X400 relay in the 1984 Games in Los Angeles) and she has a vision.
I also appointed a female coach in Bev Priestman and this is my philosophy. Now I am recruiting female directors and already have appointed three more, to a total of five for 14 members of the board! The right thing to do in a country population with 50% women and 50% female players, is to have 50% women administrators.
This is hard work, because the mentality of some people is old school.
I am an academic researcher and research shows that women can bring skills to the board, that men don't have. Women are patient, they have lateral thinking and can be more creative. They know how to make difficult decisions without emotion.
We need that strength and we can't forget that the 50% of the population is women who chase their opportunities. That's something that should be a priority in Greece, too.
I would love to be closer to the Greek Football Federation.
In my book, "Information Bombardment: Rising above the digital onslaught", I talk about knowledge obsolescence. Intellectual capital is my research area. All people want to improve their knowledge. But a lot of people don't remove the obsolete knowledge.
They use to say "come on, this is how we do it for 20 years. Why change it?". I guess it's pretty Greek, right?
Knowledge obsolescence is so important because it's not about absorbing new knowledge. It's about understanding and realizing that the things you have in mind sometimes is not good or effective.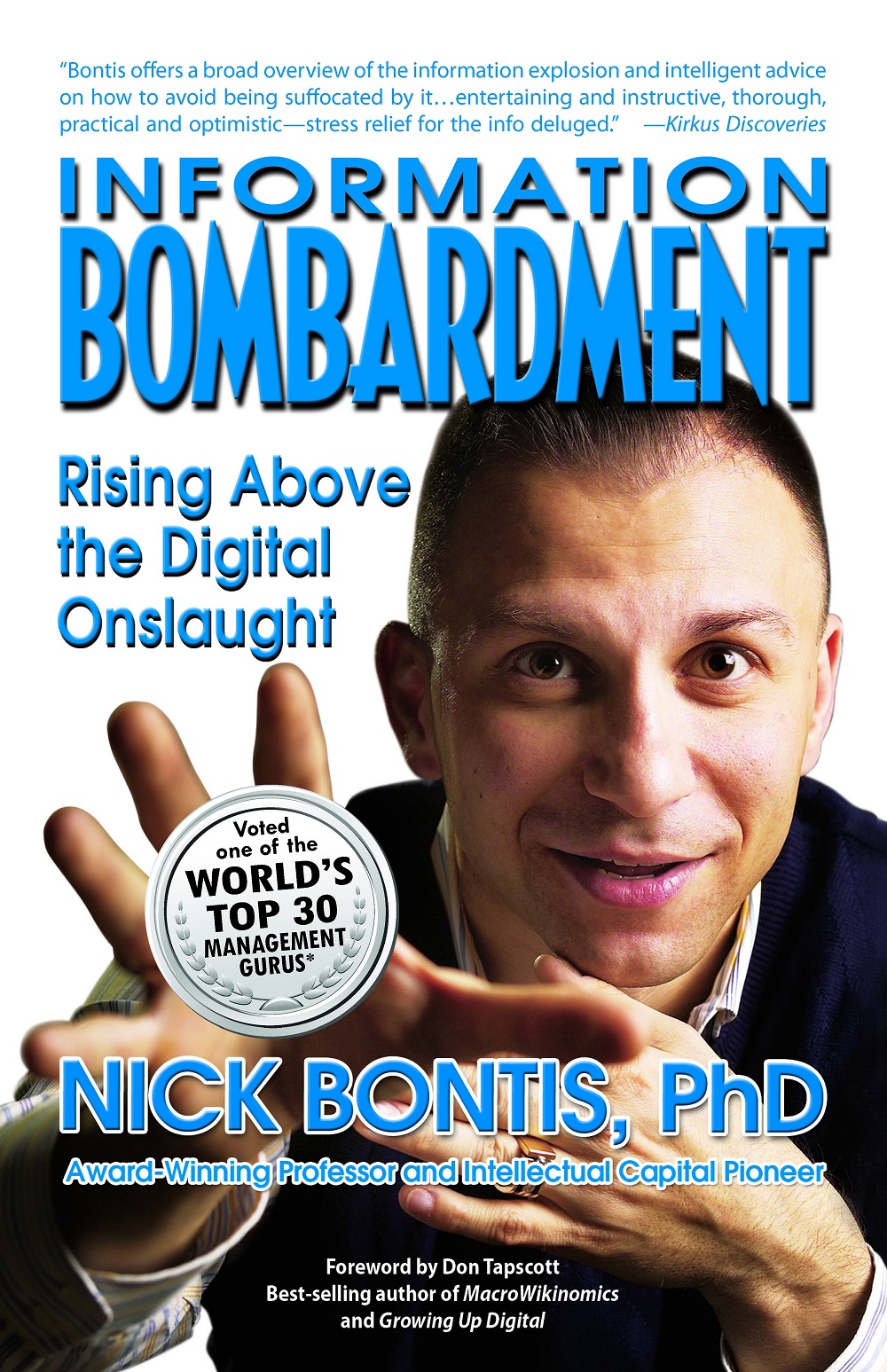 Knowledge in 2021 is perishable. It's like the fruits and vegetables you must eat in five days, because after that time they are turning to garbage.
As a human it's great to learn. But you have to forget the things that don't work. That's the message, to be a good sports executive. The thing, the element that makes a great administrator is passion. My philosophy is simple. If you want to do something, you have to love it. I want to do it.
It's not about the money. None is going to give you something. Just make the opportunities for yourself!
Passion is what defines a person and an executive. Passion is contagious.
Dr. Nick Bontis is the president of the Canadian Soccer Federation and an award-winning business professor at McMaster University.
Editor: George Adamopoulos
CHECK IT OUT:
Nikos Dabizas: "General Manager: The Role"
Kostas Katsouranis: "My bet: European mentality in Greek football"
Hussein Abbas: "Beyond Boarders" / Kenneth Barlow: "Follow your symbolisms"
Batouly Camara: "Opportunities change the world" / Santia Deck: "Fight for the impossible!"